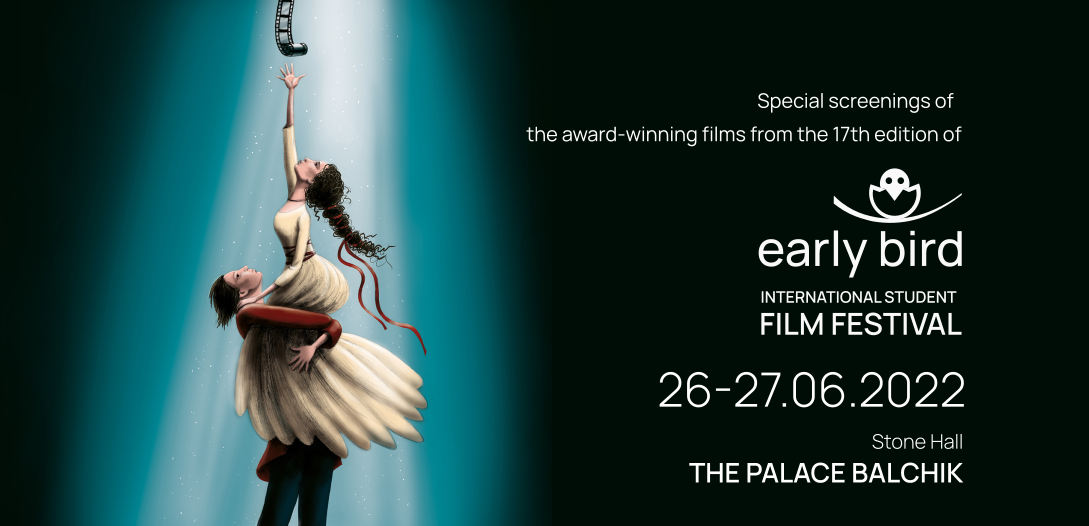 We are excited to share that on June 26 and 27, 2022 in the Stone Hall of The Palace Balchik will be screened the films that won an award at the 17th online edition of Early Bird International Student Film Festival .
This is the only opportunity to watch live the films that impressed the professional jury of the Festival and won a prize in the categories. The program will present fiction, documentary and animation by talented young directors from Bulgaria, Germany, Argentina, France, Serbia, Canada and Israel. Don't miss the chance to immerse yourself in extremely interesting stories from around the world from the comfortable chair in the cinema hall. We are expecting you.
See the full program below.
26.06.2022 SUNDAY
16:00 - 18:00
Early Bird Grand Award
GOOD GERMAN WORK  / Jannis Alexander Kiefer / Germany / 14'
Best Animation
UNDER PRESSURE / Vasil Bogdanov / Bulgaria / 6'
Best Cinematography
THE HOOK YOU WILL NOT BITE  / José David Apel / Argentina / 30'
Best Fiction
RIBS / Gvozden Ilic / Serbia / 21'
Special Mention in Animation
THIN ICE / Pauline Epiard, Valentine Ventura / France / 7'
SEECS Award
ALONE TOGETHER / Aglaja Filipović / Serbia / 21'
Special mention in Fiction
A UNICORN IN TEL AVIV / Zohar Ballas / Israel / 20'
27.06.2022 MONDAY
16:00 - 18:00
Best Bulgarian Film
THE MATCHBOX / Tanya Bozhinova / Bulgaria / 3'
Best Foreign Film
REINA / Ozan Mermer / Germany / 18'
Best Directing
EVERYTHING IN ITS RIGHT PLACE / Nikola Stojanović/ Serbia / 21'
Best Documentary
SACRIFICED / David Sanchez / Canada / 12'
Best Editing
M FOR MURDER OR L'ART POUR L'ART / David Jovanović  / Serbia / 29'
President of the Jury Award
MIGRANTS / Hugo Caby, Antoine Dupriez / France / 8'
Special mention in Documentary
MY GYPSY ROAD / Vilma Kartalska / Bulgaria / 28'