by Jitse de Graaf, Martijn Kramer
Hogeschool Utrecht, Netherlands
Synopsis
September 12, 2021: The day 1500 white sided dolphins were slaughtered in Skálabotnur. The fjord in the Faroe Islands turned red and many people from abroad were furious: this slaughter must stop!
During the Grindadráp, normally pilot whales are driven to the coast by boats to be slaughtered for their meat. The last grind was a controversial one, which led to a national discussion. With the main question: Is it still worth it?
In the film Bloody Tradition – Agree to Disagree you get a unique insight into the life of the islanders. For example, we followed a father and son who argued their whole life about this topic and still have different opinions. We brought the pro-grinders and anti-grinders together and let them (an animal right activist from Sea Shepherd and a pro-grinder) discuss the topic in a respectful way.
During this documentary you'll discover who the people behind the Grind are, what their view is on the 'traditional' pilot whale hunt and how they look to the future of the Grind. Questions to which both sides - supporters and opponents of the tradition - want to know the answers, but will probably never agree on. Let's agree to disagree.
Director's biography
Jitse de Graaf & Martijn Kramer are two Dutch documentary makers of 20 years old. They are currently studying journalism in Utrecht (The Netherlands) and have made the documentary 'Bloody Tradition - Agree to Disagree' for their minor "CampusDoc".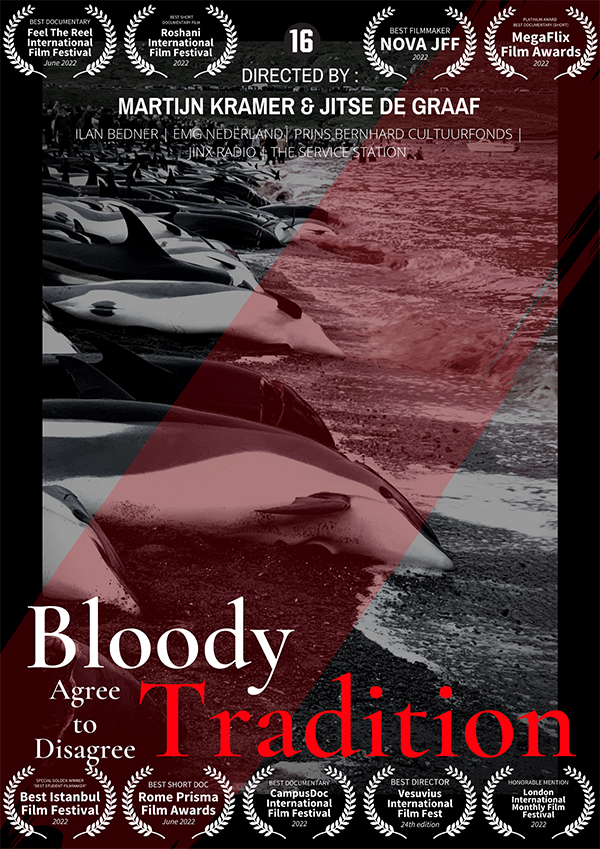 Credits
Director: Jitse de Graaf, Martijn Kramer
Music: Ilan Bedner
Specifications
Original title: Bloody Tradition - Agree to Disagree
Running time: 26'
Film type: Documentary
Country: Netherlands
Completion date: June, 2022